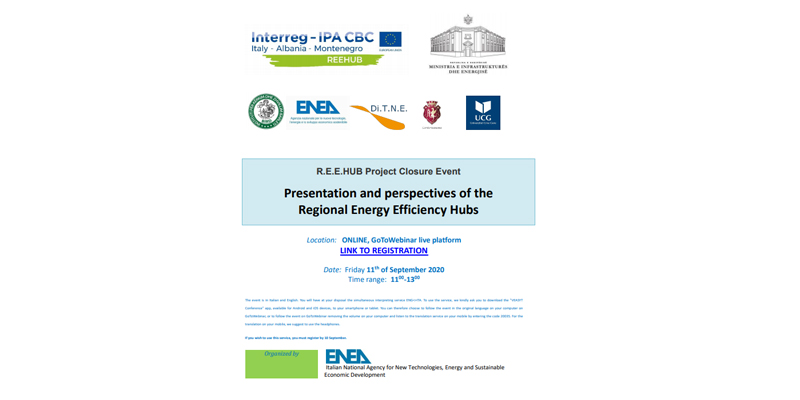 Closure Event - Presentation and perspectives of the Regional Energy Efficiency Hubs
Overview
Event organized by ENEA (Italian National Agency for New Technologies, Energy and Sustainable Economic Development) along with the University of Montenegro under the project REEHUB, co-financed by transfrontier Project Interreg IPA CBC Italy – Albania – Montenegro Interreg IPA CBC Italy – Albania – Montenegro, and by the support of and the patronage of the First Italian Zero Energy Building Network (Network Edifici a Consumo Zero) - Friday 11th of September 2020 (11.00-13.00).
Energy Efficiency has been described as the EU's biggest energy resource and one of the most cost effective ways to enhance the security of its energy supply and decrease the emissions of greenhouse gases and other pollutants. Under the framework of the INTERREG IPA CBC Italy–Albania–Montenegro programme an important project, starting in 2018 year, is going out: R.E.E.HUB – Regional Energy Efficiency HUB.
The main objectives of REEHUB is to create a network of Hubs, located in public buildings in each region involved, where it will be possible to organize capacity building actions (main outputs) and collect educational and training materials for energy efficiency audit in the building sector. The second objective is to implement a methodology of audit, according to EU standard (EN 16247-1 and 2), fitted to building renovation that pave the way for new energy efficient solutions.
Each HUB will become, connecting experience with similar Mediterranean regions, an "agora" where local policy maker of Italian and Balkan coasts can have open dialogue with citizen, building material industry, designer and green SMEs for the implementation of local energy plan. Best practises will be available to demonstrate the advantages of the audit methodology proposed and how it fits to EU rules.
REEHUB has created a public venue where all stakeholders (from school to policy maker and to consumers and SMEs) can find tangible examples on how citizens can contribute to a sustainable growth aligned to circular economy principles.
The event is in Italian and English. You will have at your disposal the simultaneous interpreting service ENG<>ITA. To use the service, we kindly ask you to download the "VEASYT Conference" app, available for Android and iOS devices, to your smartphone or tablet. You can therefore choose to follow the event in the original language on your computer on GoToWebinar, or to follow the event on GoToWebinar removing the volume on your computer and listen to the translation service on your mobile by entering the code 20035. For the translation on your mobile, we suggest to use the headphones.
If you wish to use this service, you must register by 10 September: LINK TO REGISTRATION :
https://register.gotowebinar.com/register/2108351339010217229
Dr. Dario Della Sala, ENEA, Head of Division Sustainable Materials – Department for Sustainability
Purpose and expectations of the Interreg IPA
Prof. Ing. Domenico Laforgia, Director of Managing Authority of the Interreg-IPA CBC Italy-Albania-Montenegro Programme
REEHUB Project Presentation
ProjectCoordination%20Albania%20-%20Closure%20event.pdf Ph.D. Eranda Shalsi, Albanian Ministry of Infrastructure and Energy
Gazmend%20Zeneli_BIRD%20REHUB%20Closure-%20presentation.pdf Mr. Gazmend Zenelaj – Executive Director of BIRD (Barleti Institute for Research and Develop-ment) (Albania) Presentation%20of%20Montenegro%20HUB_Irena%20Rajkovic%20CLOSURE%20MEETING.pdf Arch. Irena Rajkovic – University of Montenegro 2020.09.11%20Presentazione%20HUB%20Brindisi%20%28Vitale%29%20NEW.pdf Geom. Luciano Vitale – DITNE (Italy) Ing. Diego Salzano – Agnone Municipality (Italy)
Hub's role in the energy transition
2020.09.11%20HUB%20e%20transizione%20energetica%20%28de%20Risi%29.pdf Prof. Ing. Arturo De Risi – President of DITNE
Capitalization of the results and future steps
MISCEO_Closure%20event_11Sett..pdf Capitalization of the results and future steps Ing. Monica Misceo – ENEA – Department Unit of Energy Efficiency
Sharing moment with the audience
Question time and survey collections
Conclusions and Future Perspectives