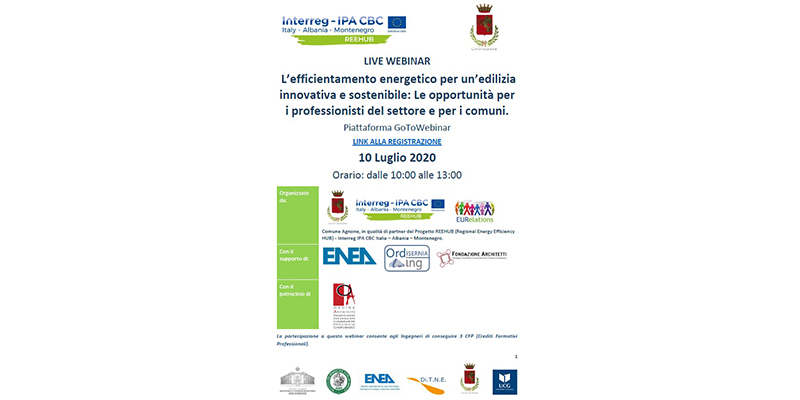 L'efficientamento energetico per un'edilizia innovative e sostenibile
Overview
WEBINAR LIVE Venerdì 10 Luglio ore 10:00- R.E.E.H.UB. Regional Energy Efficiency HUB - INTERREG IPA CBC ITALY-ALBANIA-MONTENEGRO. La partecipazione al Webinar è gratuita iscrivendosi qui:
https://lnkd.in/df_hRdQ
Per gli ingegneri saranno riconosciuti 3 CFP.
Il webinar è organizzato nell'ambito del progetto REEHUB che ha come partner il Ministry of Infrastructure and Energy of Albania, il Comune di Agnone, L'ENEA (Agenzia Nazionale per le Nuove Tecnologie, l'Energia e lo Sviluppo Economico Sostenibile), il Barleti Instute (Albania), il DITNE, Distretto Tecnologico Albanese sull'Energia, L'Università Montenegrina "Javna ustanova Univerzitet Crne Gore". L'Obiettivo del progetto transfrontaliero REEHUB è di favorire l'efficientamento energetico degli edifici pubblici nell'area di cooperazione del Programma Interreg IPA CBC Italia Albania Montenegro, attraverso la creazione di una rete di "hub" e la formazione dei professionisti che operano nel campo dell'efficientamento energetico degli edifici.